August 19, 2011
Teen, Mother Were Slain After A Grand Jury Date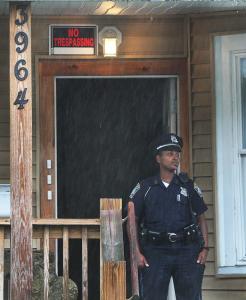 Investigators believe the homicides are connected and have been examining whether Sanchez's appearance at the courthouse could have led to his death, according to the officials, who spoke on condition of anonymity because they are not authorized to discuss the case.
It was unclear what, if anything, Sanchez told authorities about the June 5 shooting, which left another man injured. Although the officials told the Globe that Sanchez was brought to court in the hope he would testify, Jake Wark, spokesman for Suffolk District Attorney Daniel F. Conley, said that Sanchez was "not a cooperating witness'' in Martinez's homicide or any other slaying.
Diomedes Pimentel, who lost his daughter and grandson in the shooting, said a relative told him that the two went to court together but was unaware of what transpired there.
They died "savagely,'' he said. "You never think something like this can happen.''
The killing of Sanchez and his mother, Elvira Pimentel, 43, has renewed concerns about the risks of providing police with information about crimes, a longstanding problem in many Boston neighborhoods. It also underscores the struggle of witnesses who must decide whether to come forward when they live in neighborhoods where even the perception that one has cooperated with authorities can be deadly.