July 29, 2011
Norristown Church Members Hit Streets In Antiviolence Effort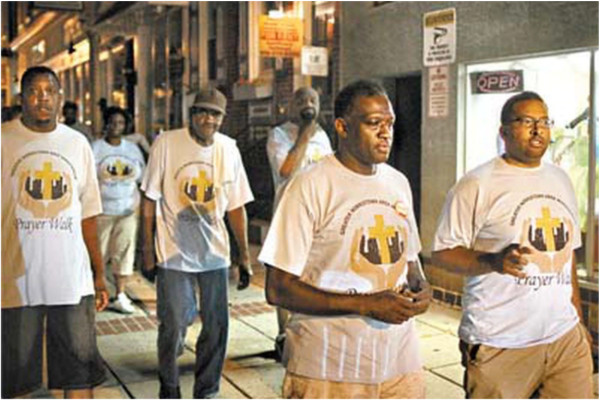 On one of the hottest nights of the year and amid a chilling two weeks of violence, a group of Norristown church members walked the streets of the community with a simple intent: to be seen.
Two young people had been shot and killed in Norristown within nine days. The 20 men and women walked in an effort to curb the violence, but not by overt preaching from the good book.
"As members of churches, we tend to turn the city over and not be out at night," Ralph Gordon said Friday as he stood on the corner of Marshall and George Streets, with the temperature over 90 degrees. "This is an effort to go out and see what's happening and engage the youth, instead of always saying, 'You need to be in church.' "
The Friday and Saturday night walks, from 11 p.m. to 1 a.m., are part of an antiviolence initiative called Seasons of Peace. The effort began in June, when the Greater Norristown Area Ministerium organized a weekend antiviolence event.
The centerpiece was a workshop led by the Rev. Jeffrey Brown, founder of the Boston TenPoint Coalition, a faith-based nonprofit whose plan to help at-risk youth has been adopted in other cities.
The plan, which has a strong antiviolence component, includes the nighttime walks, mentoring, and building partnerships with government and social agencies.